#1. New York City
If you love watching American movies and series, you might already know New York City better than your hometown. You can't blame the directors because the Big Apple is a sensational and exciting place!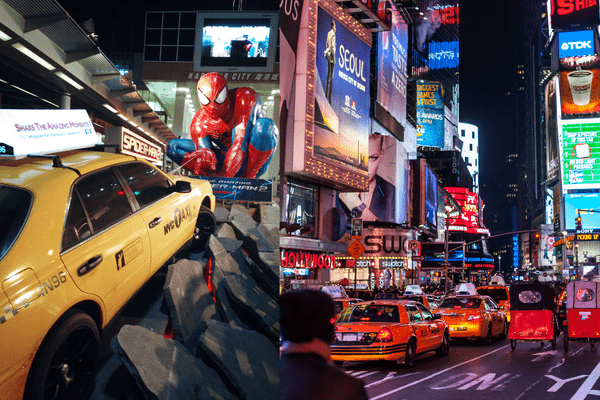 Some of the most legendary films and series made in New York City include Breakfast at Tiffany's (1961), West Side Story (1961), Harry and Sally (1989), Friends (1994 - 2004), Godzilla (1998), Sex and the City (1998 - 2004), and The Devil Wears Prada (2006).
The most filmed locations in New York City are:
Central Park: e.g., Spider-Man 3, John Wick, or The Devil's Hand
Times Square: e.g., The Devil Wears Prada, Spider-Man, or Taxi Driver
The Waldorf-Astoria: e.g., Catch Me If You Can, Godfather 3, The Great Gatsby, Manhattan Love Story
Williamsburg: e.g., School of Rock, John Adams, American Gangster, John Wick
Greenwich Village: e.g., 13 Going on 30, Julie & Julia, and I Am Legend
Another New York filming location with true cult potential is the legendary Empire State Building. The mega skyscraper has been a popular destination for Hollywood producers since the 1930s and has been featured in over 200 films and series. The most famous scene is undoubtedly from 1933, when the giant ape King Kong climbed the Empire State Building.