#8. 30 Hudson Yards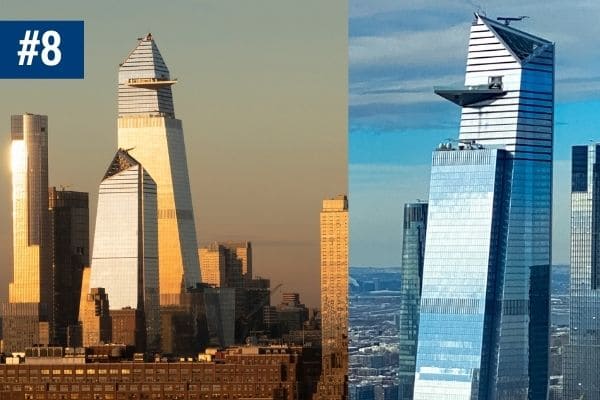 Also known as Hudson Yards North Tower, the glass and limestone structure at the corner of 33rd Street and 11th Avenue in New York City is considered the ultimate lifestyle building. With its spires and corners, the angled construction reminds of quartz crystals growing out of the Manhattan soil.
Inside the complex, you'll find apartments, fitness clubs, exclusive restaurants, and a hotel. On a corner just below the top of the 387 m tower, you'll also find the gigantic "Edge" observation deck.
30 Hudson Yards has an underground connection to the nearby subway station and is also a real piece of art from the inside. One of the many tenants is the WarnerMedia entertainment group.
30 Hudson Yards: Facts
Height:
387 m
Floors:
103
Location:
New York City
Built:
2019