#1. Austin, Texas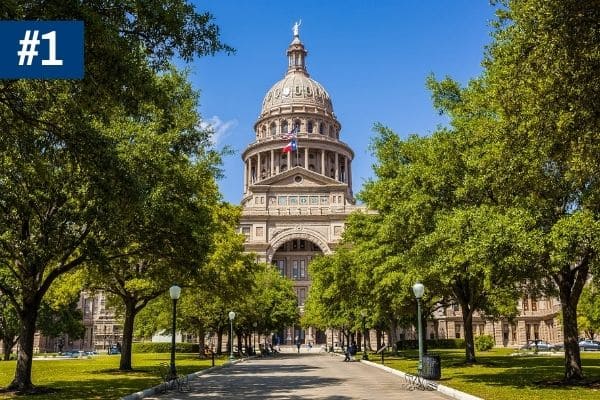 In the Texan capital of Austin, you're always within walking distance of a park. That's thanks to a huge green initiative that has made Austin one of the most livable cities in the US. Plus, there's a huge music and club scene and over 300 days of sunshine a year.
If you ask around where the cheapest place to live in the US is, you often get "Austin, Texas" as an answer. But that's only partially true, as rental prices in the city center have picked up nicely in recent years. However, thanks to excellent public transportation, you can live where it's still affordable without hassle.
Austin is heavily involved in energy, transportation, and nature, and it's creating more and more jobs in sustainable sectors. You can already choose from many green top employers here. Speaking of green, don't forget that you need a Green Card if you want to live and work in the USA!
Austin facts
Cost of living
$$$

$$

Ø Household income
about $ 74,000
Nature
Barton Creek Greenbelt, McKinney Falls State Park
Ø Commute time
25 minutes
Want to get to know Austin?
Book your Austin tours and activities here!