The most famous beaches in the USA
Do you miss your all-time favorite US beaches on the Forbes list? Some very famous stretches of beach never make it to the top spots because Dr. Beach's ranking focuses primarily on healthy, clean, noise-free relaxation in nature.
So if your favorite beach is not in the top 10, it could be because it is usually crowded with tourists, has produced a lot of trash in recent years, or allows smoking. But don't worry: the most popular beaches in the USA are not forgotten here! The editors of American Dream have selected their personal favorites for you: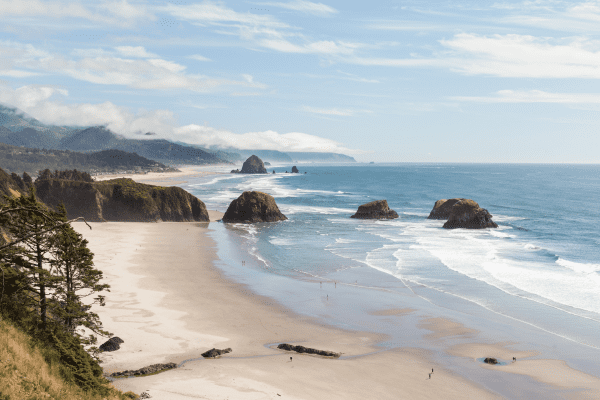 Cannon Beach, Oregon
Cannon Beach is home to long, golden sandy beaches perfect for leisurely walks or family sandcastle building. The highlight here is Haystack Rock, a tall monolith that juts out of the ocean and serves as a sanctuary for seabirds. At low tide, explore the tide pools around the rock, teeming with fascinating marine life.
If you love the outdoors, don't miss a hike along the coast. Nearby Ecola State Park offers scenic hiking trails with breathtaking panoramic views of the Pacific Ocean.
Grayton Beach, Florida
Located on Florida's beautiful Emerald Coast, Grayton Beach is a hidden gem that offers a quiet and unspoiled coastal experience. With its pristine white sands and crystal clear turquoise waters, this beach is often called one of the most beautiful in the country.
Grayton Beach State Park is the heart of this coastal paradise. The park's dune lakes offer a unique opportunity to kayak or canoe amidst breathtaking scenery. Nature lovers will find an abundance of wildlife and scenic hiking trails in the area.
East Hampton Main Beach, New York
East Hampton's main beach offers vast stretches of soft, white sand for sunbathing or a refreshing dip in the Atlantic Ocean. Lifeguards ensure a safe and enjoyable stay for beachgoers of all ages.
The beach is surrounded by elegant villas and breathtaking landscapes that reflect the upscale ambiance of the Hamptons. While visiting, explore the charming village of East Hampton, known for its elegant boutiques, art galleries, and world-class restaurants.
South Beach in Miami, Florida
World-famous South Beach offers warm water and white sand as far as the eye can see. Whether relaxing in a lounge chair, playing beach volleyball, or strolling down famous Ocean Drive, South Beach is perfect for a beach vacation.
In addition to the beach, South Beach has a thriving nightlife. Enjoy the trendy clubs, bars, and restaurants that line the streets and experience the vibrant energy that Miami is known for.
Venice Beach, Los Angeles, California
Venice Beach is known for its colorful boardwalk with street performers, local merchants, and talented artists who display their work. Walk along the boardwalk, soak up the vibrant atmosphere, and experience the creativity that permeates the area.
The beach is a hotspot for surfers, skateboarders, and beach volleyball players. You can rent equipment or take lessons to try out these popular sports. If you prefer a quieter pace, find a spot on the sand and soak up the California sun or have a picnic overlooking the ocean.
Coligny Beach in South Carolina
Coligny, a hidden gem on Hilton Head Island in South Carolina, has long, soft sandy beaches with plenty of room for sunbathing, sandcastle building, and playing. The beach is known for its gentle waves and warm water.
A highlight is Coligny Beach Park, an ideal place to relax in the shade, enjoy a picnic with loved ones, or just take in the beauty of the surroundings. Coligny Beach offers a quiet and family-friendly coastal experience and is an ideal destination for those seeking tranquility and natural beauty.
Mustang Island State Park, Texas
Mustang Island State Park is a coastal oasis on the Gulf of Mexico. This pristine beach resort offers a quiet and peaceful retreat if you are a nature lover or outdoor enthusiast.
The beach stretches for miles. You can relax on the soft sand, take a stroll along the shore, or enjoy a picnic with friends and family.
It's also home to numerous bird species, including herons, egrets, and the endangered piping plover. For the more adventurous, Mustang Island State Park offers activities such as kayaking, fishing, and camping. Pitch a tent or rent a cabin and spend the night under the stars, surrounded by the sounds of the ocean.
Singing Beach, Massachusetts
Known for its unique sand that makes a squeaking sound when you step on it, Singing Beach offers a unique experience for beachgoers. The shape and composition of the sand grains create the phenomenon.
The soft, white sand and clear water invite you to relax, swim and enjoy the tranquil environment despite the excitement. Singing Beach is family-friendly and even has lifeguards and restrooms.
Waikiki Beach, Oahu, Hawaii
With its soft sand, turquoise water, and the famous Diamond Head mountain in the background, Waikiki Beach is synonymous with Hawaiian paradise. The beach is ideal for water sports enthusiasts and offers visitors plenty of opportunities for surfing, paddling, and snorkeling.
As the sun sets, enjoy the mesmerizing sight of hula dancers and fire artists entertaining beachgoers. Hawaiian culture and traditions come alive at Waikiki Beach for a tropical adventure.
Driftwood Beach at Jekyll Island, Georgia
Driftwood Beach is a hidden treasure on the Georgia coast that will enchant and inspire you with its unique, surreal beauty. It is known for its driftwood trees, sculpted over time by the tides and the elements.
The weathered growths create an eerie landscape, making Driftwood Beach a popular spot for photographers and nature lovers. The beach itself offers a quiet atmosphere that invites you to take long walks along the shore or simply sunbathe.
Have you packed your bathing suit yet? Then let's go on your beach vacation in the United States! We are happy to help you with your travel arrangements and ESTA approval.