1. Port Townsend, Washington
Port Townsend is a gem on the northeastern tip of the Olympic Peninsula overlooking the beautiful Puget Sound. Its proximity to Seattle (about a 2-hour drive) makes this small US town an ideal place to escape the hustle and bustle of the big city.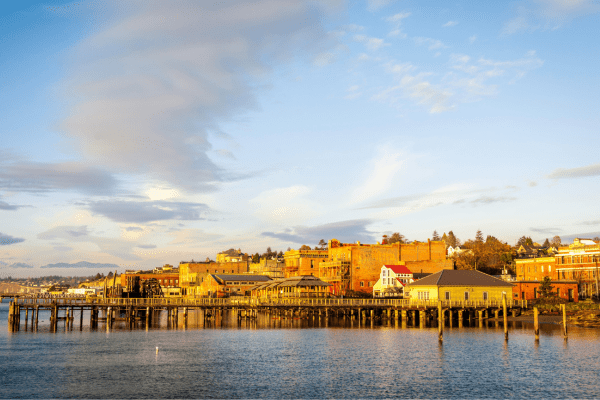 What sets Port Townsend apart is an unmistakable sense of community. People here are friendly, relaxed, and genuinely care about each other. You'll often talk with strangers at the local farmer's market or in the cozy cafes along Water Street. Here, people know each other by their first names and are always willing to help.
Life in Port Townsend has a different pace that runs harmoniously with the changing tides. The city is also known for its Victorian architecture, which gives the streets an old charm.
From the iconic bell tower over the city hall to the colorful storefronts, there is something beautiful to discover around every corner. And, of course, we can't forget the outdoors: Olympic National Park, beaches, and lush forests offer endless opportunities for outdoor adventure.
Working in Port Townsend reflects the artistic and creative spirit of the city. There is a vibrant art scene with galleries, and many residents are artists, writers, musicians, and craftspeople. So, if you're someone who's driven by creative energy or wants to explore new artistic avenues, you'll be in good company.
While life here is very laid back, the job market can be quite competitive due to the size of the town. But don't let that deter you - many residents have found ways to make a living by combining their passions with their work. It could be running a local bakery, offering outdoor tours, or opening a small business.
Port Townsend is a place where you can build meaningful relationships, explore your creative side, and enjoy the natural beauty of the Pacific Northwest. If you're someone who values community, loves the arts and outdoors, and wants to experience life at a different pace, you may find your perfect home here.
Port Townsend: Facts
US State:
Washington
Inhabitants:
~10,300
Top Employer:
Port Townsend Paper, Crown Paper Group, Olympic Community Action Program, PT Holdings Company, Centrum Arts & Creative, Coldwell Banker Best Homes, Starboard Tech, Copper Canyon Press
Nearest major city:
Seattle
Visit Port Townsend: