Study in the USA
Harvard, Stanford, MIT – many of the world's most prestigious universities are located in the USA. To be more precise, the United States accounts for 13 of the top 20 universities worldwide. It is, therefore, no surprise that a large number of young people are drawn to study, teach, or research at an American university.
The year abroad in the USA not only increases your career opportunities but also promotes your personal development. You will immerse yourself in typical American campus life, get to know students from all over the world, and gain self-confidence and independence.
The easiest way to study in the USA is through a partner university or an exchange program. Ask at your university whether there are partnerships with American universities and what requirements you have to fulfill for an application. If you would like to spend your year abroad in the USA at a specific university, you can also apply independently to the university of your choice as a "free mover."
In any case, you must have sufficient English skills to be allowed to study in America. You can prove this with a TOEFL test, which evaluates your language proficiency in four areas: reading, listening, speaking, and writing.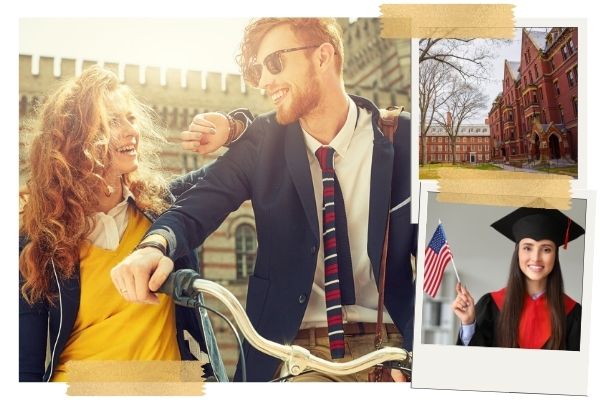 Be sure to start planning your year abroad in the USA early so that you can clear all organizational hurdles in good time. We recommend starting your preparations about a year before you plan to start your studies. You will need a few months of preparation time, especially for your university application.
The costs of studying vary greatly. Especially if you want to study at one of the elite American universities, it comes at a price. The cost of your room and board also varies depending on the US state or city you choose.
Calculate the following costs for your semester in the USA:
Tuition fees
Accommodation
Food & leisure
Public transportation
Books and other study materials
TOEFL test (approx. $ 240)
Flight tickets Passport
Visa (mostly F-1, sometimes J-1)
Insurance (healthcare, liability, travel cancellation, luggage)
If your financial means are not sufficient for a year abroad in the USA, there are possibilities for funding, e.g., through scholarships, guest lecturer programs, or other projects.